Breadcrumbs are an ingredient that seems simple enough. However, it is one you may forget you need until you are in the thick of cooking. In addition, you want to make a delicious dish that calls for breadcrumbs, but you are allergic to gluten.
Whether you don't have breadcrumbs at home or have to avoid bread for health, you are in luck! From easy-to-find alternatives in your kitchen to several gluten-free choices, there are over a dozen delicious bread crumb substitutes that you can choose from. Keep reading to find the best breadcrumb alternative for you.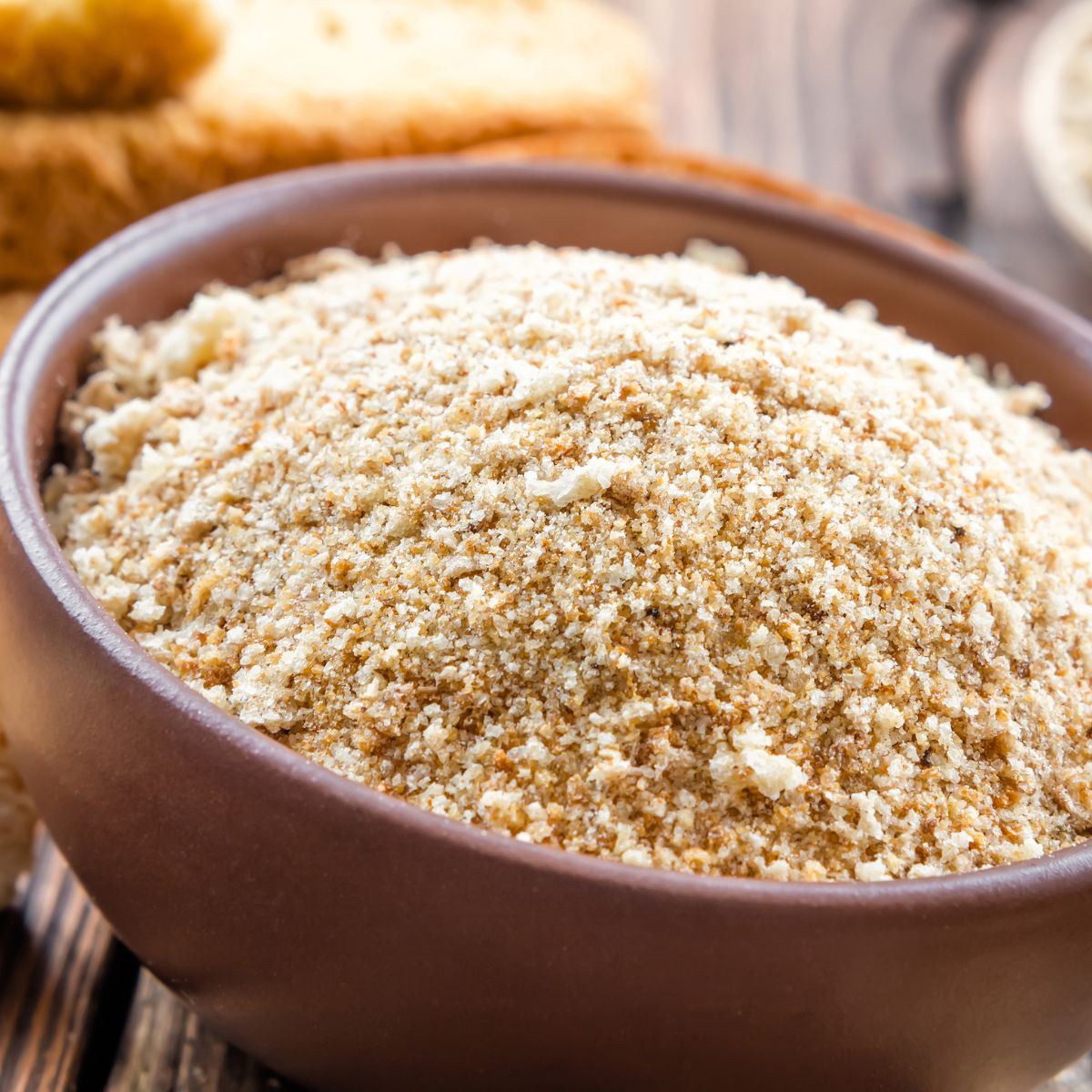 Jump to:
Hot Dog Buns or Hamburger Buns
Since hot dog and hamburger buns often don't match up with the number of hot dogs or hamburgers in a package, you may have some leftover buns. Rather than throwing these away keep them to use as breadcrumbs. You can even toss them in the freezer to hold onto for a potential need in the future.
To use buns as breadcrumbs you will need to first dry them out. This can be done naturally by leaving the buns out on the counter or you can dry them out faster in the oven. Simply place on a baking sheet and bake on low heat.
The goal is to get them to dry out. However, you don't want to bake them. Take them out just as soon as they get crunchy, but before turning golden brown. Once they are dried out crush them up to create crumbs.
Use these new breadcrumbs in a 1:1 swap for store-bought breadcrumbs in any recipe.
These can be used for binding or for coating. However, this alternative will be blander than seasoned panko crumbs. Therefore, consider adding some additional seasonings for a more savory flavor.
Bagels
Like buns, bagels are another type of bread that you may have left over. Just like hot dog buns, bagels are a great substitute because they have all the same properties as traditional breadcrumbs.
Once dried out, bagel crumbs will work the same way to either bind ingredients (like in meatballs) or add a crunchy coating to meat (like fried chicken). Follow the same directions for hot dog buns to dry out your bagels. Since they are thicker, they may take a bit longer though.
Use bagel crumbs in a 1:1 swap for breadcrumbs in any recipe. While sweet bagels are not ideal for this substitute, seasoned bagels can add a fun boost of flavor.
Snack Foods
Almost any type of crunchy snack food (pretzels, crackers, chips) are great choices to use as a substitute for breadcrumbs.
These types of foods are typically made from wheat flour which provides the same benefits of being able to bind ingredients. Moreover, they also will get nice and crunchy as a coating (just like bread). Even things made from corn flour (like chips) will still provide the same benefits.
While some of these options will lend a more neutral flavor, you can also have fun with choosing chips or crackers with a new bold flavor to change up your recipe. Simply be mindful that many of these choices are saltier than regular breadcrumbs. Therefore, you may want to avoid adding any additional salt to your recipe.
Here are some fun favorites to try out!
Pretzels
Potato chips (not ideal for frying because they will burn easily)
Doritos (or other flavored chips)
Corn chips
Ritz Crackers
Cheeze Its
To use any of these as substitutes simply toss in a plastic bag and crush. Then use in a 1:1 ratio for breadcrumbs in any recipe.
Cereal
Like the snack foods mentioned above, cereal is another tasty alternative to breadcrumbs that you may already have at home. The cereal will bind ingredients easily or work as a delicious crunchy coating or topping.
Some of my favorite cereals to use are Corn Flakes, Corn Chex, Rice Chex, and Rice Krispies. These all have a nice neutral flavor. Therefore, you can use them easily as a substitute without worrying about changing the flavor of your dish too much.
Crush up any of these tasty cereals to use as a 1:1 alternative for breadcrumbs in any recipe.
Raw Rolled Oats
Another common ingredient you may have in your pantry is rolled oats. Oats have similar characteristics to bread when it comes to absorbing moisture. Therefore, they are great for binding ingredients.
However, oats do not get crunchy the same way bread does. Therefore, you will want to avoid using oats as a coating or topping.
Rolled oats are easy to use in a 1:1 exchange for breadcrumbs in recipes like meatballs, meatloaf, or other similar recipes. If you have rolled oats that are certified gluten-free you can also use these as a gluten-free option.
Homemade Panko Breadcrumbs
While all the options above are easy go-to substitutes another great choice is to make your own panko breadcrumbs! These are super easy to make and will give you a tasty flavor that is even better than store-bought ones.
Gluten-Free Breadcrumb Substitutes
There are tons of delicious alternatives to regular breadcrumbs! Below is a list of some of my favorite tasty alternatives that are all gluten-free!
While many of these have similar volumes to breadcrumbs, they can absorb moisture differently. Therefore, when using it as a binder start with ½ the amount the recipe calls for and then add more if needed. You can also start with this amount for coating.
Ground Macadamia nuts
Crushed Walnuts
Crushed Pecans
Chia Seeds
Sesame Seeds
Ground Flax Seeds
Ground sunflower seeds
Parmesan cheese
Crushed Pork Rinds
Dried Coconut
Nutritional Yeast
While all of these are tasty options be aware that some have more distinct flavors than others. Therefore, some will impart a new flavor to your dish (like dried coconut and nutritional yeast).
Gluten-Free Coating Substitutes
There are two substitutes that are gluten-free and can be used for coating chicken and other meats. However, these are quite different from other alternatives.
The texture of these two choices will provide a mild coating that can be fried or baked. However, they will not have a thick crunchy coating like the other alternatives. Use these when you want a lighter coating.
Rather than a direct exchange, start with ½ the measurement and then add more if needed.
Gluten-Free Binding Substitutes
In addition to the other choices above, there are two substitutes that are great for binding. These two choices are both gluten-free and can be used to combine ingredients.
While rice is more neutral tasting, quinoa has a more distinct flavor that you may change the flavor of your recipe. However, both can easily be used.
Since both are already cooked and have more volume you will not need to use as much as other substitutes. Start with about ¾ of the suggested measurement. Add more if needed.