Juicy, naturally sweet candied fruit recipes are a treat for everyone to enjoy no matter the holiday or occasion that they're made for! Some of these are perfect treats for topping desserts or snacks during the hot summer weather, or just popping into your mouth since they're amazingly tasty!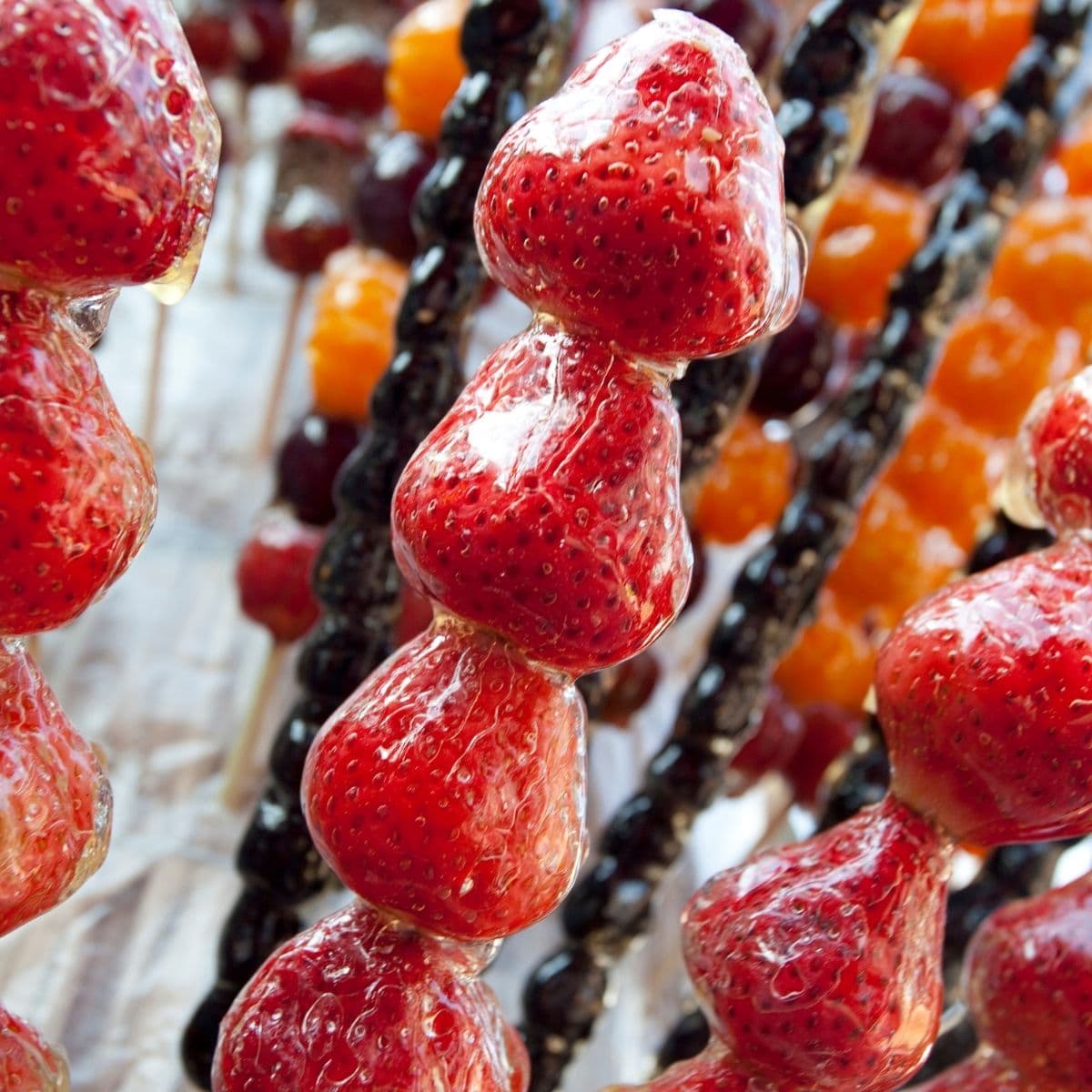 Tired of your fruit salads and seasonal juices? If you're looking to try out fruit in a way that's both creative and delicious, candied fruits are just what you need. It's like making your gummy bears and lollipops, and they taste even better when homemade.
Jump to:
To help you with that, here are 10 great recipes with candied fruits:
Tanghulu
This hard, fruity snack is a hit throughout Northern China. Rather than being soft to chew like other candied fruits, it is fairly hard due to the hardened sugar syrup used to make it. Tanghulu is traditionally made with strawberries, but you can choose whatever fruit you're in the mood for.
Candied Angelica
Candied Angelica is a great introduction to candied fruits and a solid introduction to this list's portion of straight-up candied fruits. With a bright, neon green color, these candied angelica stems are not just brilliant to look at, they taste just as good too.
Candied Cherries
Candied cherries are super easy to make and delectable once they're ready to eat. All you need to do is put cherries inside a sugar syrup and allow them to rest. The preservation in the sugar syrup sweetens them up and turns them into candy as well.
Candied Apricots
Simply dry up some apricots and put them inside a sugar syrup for preservation. This turns the apricots into candies, while also giving them the sweetness you desire. You can eat them as candy or even use them as a garnish.
Candied Peels
You don't need to make candies out of entire fruits or their pieces; their peels work well too! Rather than throwing away your peels, just make candy out of them by soaking them in some sugar syrup.
Candied Fruit Cookies
Turning food into candy offers you a lot of flexibility in choosing the fruit and also what you want to do with the candy. One great way of eating them is by adding them to cookies along with some almonds. You're bound to love it!
Candied Fruit Cakes
Similar to the last idea, you can also add candied fruit to the cake batter and give your cakes some extra sweetness. Some solid options are candied citrus peels in a chocolate cake or some candied strawberries in a cream cake.
Glazed Citron
Want to take your candied orange to the next level? What you need to try out is glazed citron. The key here is using corn syrup instead of regular sugar syrup since it prevents crystallization. You will need to let the orange slices soak in the syrup for two days, which makes preventing crystallization necessary.
Candied Ginger
This might seem like a unique entry in this list, but candied ginger is delicious and makes for a fantastic addition to a pumpkin pie or a streusel.
Glazed Strawberries
Glazed strawberries are different from tanghulu but equally delicious. They do have the hard, sugary shell on the outside, but are much softer on the inside. It's a riveting combination of the acidity of the strawberries and the raw sweetness of the sugar syrup.