What to serve with lobster risotto to round out your meal for lunch or dinner! Lobster risotto is a creamy dish with a mixture of rich and salty flavors that everyone in the family can enjoy!
We love lobster risotto because it's great for seafood lovers who want a hearty dish that isn't too difficult to prepare. You can make this dish any time of the day because it is simple to make and doesn't require too much preparation or cook time!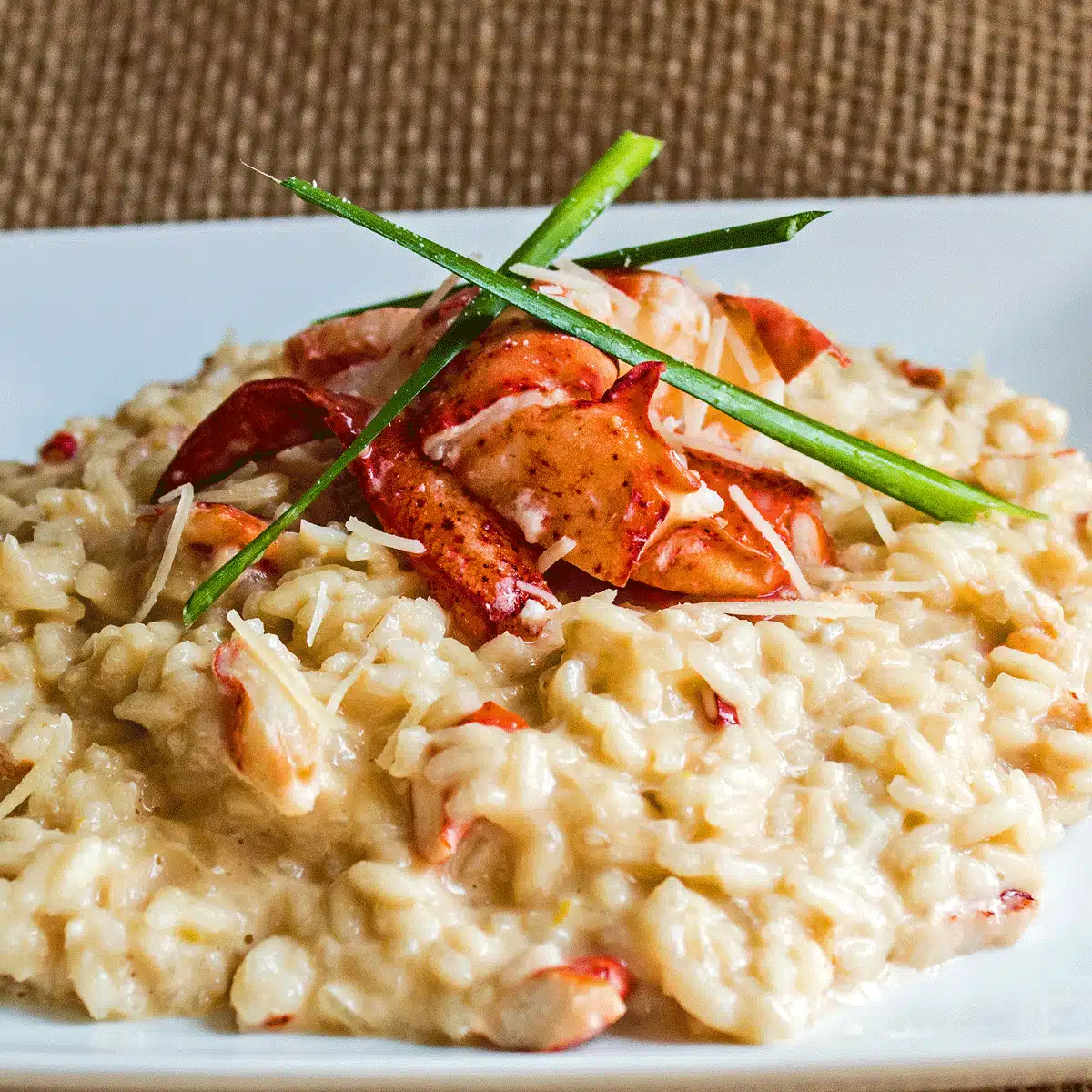 Jump to:
Best Lobster Risotto Side Dishes
Lobster risotto is a creamy and delicious seafood dish that pairs best with many types of side dishes. Enjoy this main course with vegetables, carbohydrates, meat, or even something sweet!
1. Easy Homemade Biscuits
Easy homemade biscuits are the perfect side dish to serve with a hearty scoop of creamy lobster risotto! These biscuits are light, fluffy, and super easy to make, taking less than 30 minutes from start to finish!
Enjoy these scrumptious biscuits with homemade honey butter, or sprinkle them with fresh herbs!
2. Oven Roasted Potatoes
These oven-roasted potatoes are not too over the top, which makes them a great side dish for a full plate of flavorful lobster risotto! They are perfectly textured with a crisp outer layer and are soft on the inside!
I love experimenting with different types of potatoes, such as Yukon gold potatoes, red potatoes, or even sweet potatoes!
3. Kickin' Collard Greens
These kickin' collard greens are the best comfort food when you have had a long day of adulting! They have a hint of spice and are topped with crunchy bacon, which makes them a great complimentary choice for a dish like lobster risotto.
If you love spice as much as I do, feel free to add another pinch or two of red pepper flakes!
4. Six-Minute Seared Ahi Tuna Steaks
If you want an all-out seafood feast, then you will adore these six-minute seared ahi tuna steaks paired with a piping hot scoop of lobster risotto! These ahi tuna steaks are marinated to perfection with delicious soy sauce, sesame oil, honey, and cayenne pepper, which will have your tastebuds dancing!
If you don't like the idea of eating raw fish, seer each side of these tuna steaks for an additional 2 to 3 minutes!
5. Crunchy Fried Shrimp
I love complimentary textures, making this crunchy fried shrimp recipe the best side dish option for lobster risotto. These crunchy fried shrimp are plump and juicy on the inside and will have you thinking you are at a real seafood restaurant!
Experiment with small, medium, or large shrimp when making this side dish recipe!
6. Caesar Salad
Some nights are busier than others, which can make dinner time stressful, especially if you are hangry! Why not prepare this crisp and tangy Caesar salad ahead of time to help dinner go a little smoother!
You can add other veggies to this Caesar salad recipe, such as thinly sliced red onions or whole cherry tomatoes!
7. Grilled Veggie Skewers
Nothing is better than the char-broiled flavor you get when you make fresh veggies on the grill! These grilled veggie skewers will add a deeper layer of flavor to your lobster risotto and can be enjoyed on the side or on top!
If you don't have a grill at home, you can broil these veggie skewers in your oven!
8. Fried Green Tomatoes
You may not think to make fried green tomatoes with lobster risotto, but let me tell you, it is a match made in heaven! You can use these flavorful tomatoes as a scoop to load up your risotto; no forks are needed!
If you want to make your fried green tomatoes a little spicy, add a pinch of cayenne pepper to the breadcrumb mixture!
9. Garlic Sautéed Mushrooms
Garlic sautéed mushrooms are a quick dinner dish that is great when eaten on the side or on top of a plate full of lobster risotto! These garlic sautéed mushrooms are made with butter and olive oil, which gives them a perfect golden edge and a deep savory flavor!
I love portabella mushrooms for this recipe, but white mushrooms are just as delicious!
10. Buttery Baked Corn on the Cob
This buttery baked corn on the cob is a dinner favorite in my house, especially when paired with my lobster risotto! This corn on the cob has layers of flavor with the added garlic and butter, which will have everyone in your family begging for more!
If you don't have access to corn on the cob, you can use canned or frozen corn as a replacement!
11. Best Baked Salmon
If you want a seafood feast that is fit for a king, then you must pair your lobster risotto with the best-baked salmon recipe! This salmon is made with fresh herbs, tangy lemon, and creamy butter, which makes it ultra-flavorful.
I love to use fresh wild-caught salmon for this recipe, but you can use whichever type you prefer!
12. Best Crab Cakes
Another side dish to keep up with the seafood dinner theme is the best-ever crab cakes! These crab cakes are made with tangy dijon mustard, salty Worcestershire sauce, and spicy hot sauce, which will have your mouth watering!
Don't forget to add a spritz of lemon or lime juice to these crab cakes immediately after removing them from the pan!
13. Toasted Baguette
One thing I crave when I eat my creamy lobster risotto is a delicious toasted baguette! This toasted baguette will soak up any leftovers you may have on your plate and will have you reaching for more!
I use a day-old French baguette when making this recipe, but you can use ciabatta bread or even Italian bread if needed!
14. Garlic Butter Steak
What is better than steak and lobster? It is a dynamic pairing that makes you feel like you are at a gourmet seafood restaurant! This garlic butter steak is perfectly seasoned and will take your lobster risotto to a whole new level!
This recipe will give you a perfect medium-rare steak; if you prefer your meat to be well done, allow it to cook until the internal temperature reaches 165 degrees.
15. Tiramisu
Lobster risotto doesn't only pair well with savory side dishes; sometimes, we need a sweet treat to round out our dinner-time experience! This tiramisu will have you feel fancy and will keep your stomach happy!
This recipe has ingredients such as raw eggs and alcohol, which are not safe for pregnant women and children!
Choosing The Best Sides For Lobster Risotto
These side dishes add depth to the lobster risotto and help stretch out the meal if you are on a budget! Pair it all together with a glass of smooth red wine, or try one of our delicious cocktails, such as a tangy mojito!