If you are wondering what side dishes to serve with fish pie, I got you covered. From great side veggies to scrumptious desserts.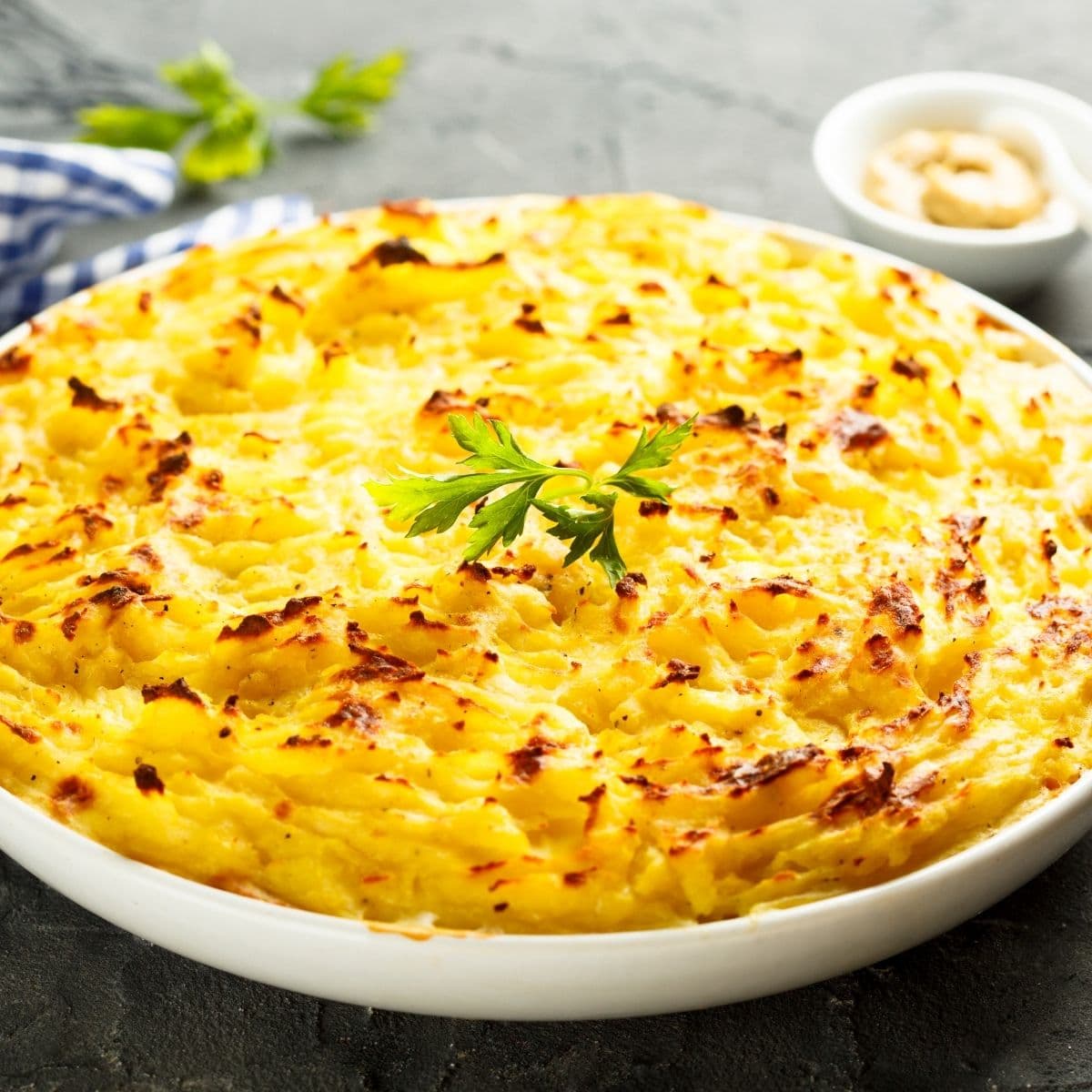 A fish pie can be amazing with a white fish, and a super creamy sauce. A classic recipe from the U.K.
Fish pie is really good with side of broccoli, asparagus or even a green salad. Looking for some variety try some sides like french fries, baked potato, or saffron rice!
Lets get started!
Green Salad
Light, fresh, and simple. Before or during a heavy meal a green salad pairs nicely with fish pie.
Best Simple Tossed Green Salad
Best Simple Tossed Green Salad is the easiest side dish and goes perfectly with just about anything! Comes together in 10 minutes with any easy dressing!
Check out this recipe
Broccoli
Get some greens! Broccoli with fish pie is fabulous, I like to use the broccoli to mop up the creamy filling on my plate.
How to Steam Broccoli Perfectly Every Time
Delicious basic steamed broccoli recipe! How to steam broccoli so that it stays vibrant green. The easiest way to cook this wonderful vegetable.
Check out this recipe
Asparagus
Pure Goodness! The bacon wrapped asparagus adds a really nice smokiness to the fish pie!
Bacon Wrapped Asparagus – WellPlated.com
Bacon Wrapped Asparagus is one of the best recipes for easy entertaining! Cook it in the oven, on the grill, or stove. Crispy and flavorful every time!
Check out this recipe
Homemade French Fries
Super easy. Nothing goes better with fish than good old fashioned chips (french fries as we call them here in the US)
Homemade French Fries
You will think you're eating at a restaurant when you taste these extra crispy, golden homemade french fries! Add a sprinkle of salt and a side of ketchup and you're family will be in french fry heaven!
Check out this recipe
Baked Potato
Space saver. These awesome loaded baked potatoes can be baked in the oven along with your fish pie.
Perfect Baked Potato - Love and Lemons
A perfect baked potato has crispy skin and fluffy insides. This method for how to bake a potato works every time! Add your favorite toppings, and dig in!
Check out this recipe
Saffron Rice
Elegant. Super flavorful saffron rice pairs really well with this creamy pie.
Saffron Rice - A Fragrant Savory Side Dish
Learn to make perfectly fluffy Saffron Rice, a beautiful and savory side dish with saffron spice, onions and broth. Gluten free, Kosher
Check out this recipe
Mashed Potatoes
Extra helping? I usually have a ton of leftover mashed potatoes when making the fish pie, why not just pile a ton on your plate!
The BEST Mashed Potatoes! | Gimme Some Oven
These amazing homemade mashed potatoes are perfectly rich and creamy, full of great flavor, easy to make, and always a crowd fave!
Check out this recipe
📖 Recipe
Side Dishes for Fish Pie
Ingredients
Tossed Green Salad

Broccoli

Bacon Wrapped Asparagus

Homemade French Fries

Baked Potato

Saffron Rice

Mashed Potatoes
Instructions
Follow the directions, and serve!